We harness the power of sustainable science to protect against the onslaught of time, wear, and obsolescence.
Protecting your products and the environment.
Today, sustainability is a problem for more than just future generations. Pollution and waste are changing our environment, and we need to take action to address those changes now.
At PolyCore, our water-based polymer coatings are 100% environmentally friendly and don't release volatile organic compounds into the atmosphere. Volatile organic compounds result from the use of solvent-based products. When volatile organic compounds reach the atmosphere, they create air pollution, which is a direct contributor to the depletion of our ozone layer.
At PolyCore, our focus is to eliminate solvent-based coatings throughout the entire industry and replace them with sustainable options. That one small change will have a substantial positive impact on the environment, on our lives, and the lives of future generations.
PolyCore is a patented water-based polymer coating, when applied increases protection against abrasion by over 500%. PolyCore's application technique uses a roller press to push PolyCore into the base cloth fibers. Any abrasion to the face will not penetrate through to the back of the product. PolyCore is 100% environmentally friendly coating that enhances products durability and functionality.
PolyCore Light was created to replace solvent-based coatings. PolyCore Light is a complete one to one comparison against solvent-based coatings in performance, abrasion resistance, and cost. PolyCore Light does not release volatile organic compounds that damage the ozone layer, (direct component to climate change). PolyCore Light's water-based PU is 100% environmentally friendly coating which will help increase sustainability and reduce environmental impact.
Spot-Welding is applying PolyCore to specific, high abrasion areas that need more reinforcement. PolyCore is applied onto a film and heat transferred into selected areas on the face of the product. Each Spot-Welding piece is handcrafted to meet the highest standard of abrasion resistance and is shipped to the doorstep of any cut and sew shop.
PolyCore's sustainable polymer formulations protect fabrics against abrasion, enhancing the durability of any products they're applied to.
We make your products better, improving their functionality while preserving their original beauty.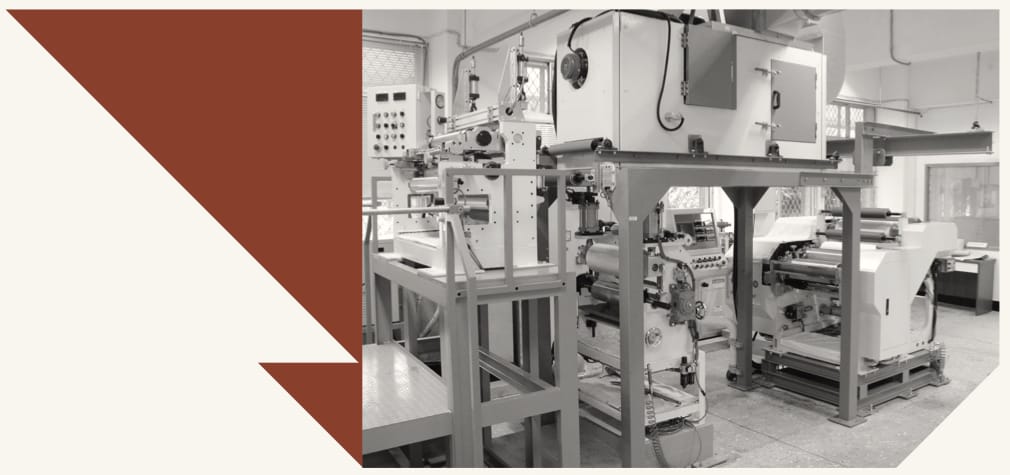 U.S. Patent No. US 8,877,288 B2
Our name contains what makes us different.
Our deep knowledge of how polymers crystallize means we can create unique, sustainable formulations to protect your specific product. Our patented application process coats your fabric with precisely the right amount of PolyCore to maximize its effectiveness. Your products will look and perform better, for an astonishingly longer period of time.
Unique Formulation Properties
Polyurethane molecule size

Viscosity

Coating speed

Solidification process
Taber Abrasion Test (cycles)
We believe the little things make all the difference.
Our entire company is quite literally founded on the idea that paying attention to the small details leads to big discoveries. Company founder Arthur Chen, when completing his Master's Degree in material science, decided to focus his master's thesis on the solidification process of polymers. Yes, that's very specific. But that specific focus is what makes PolyCore so unique in a sustainable way.
Collectively, we have years of experience working with manufacturers all over the world. We've had thousands of conversations about the products they make, their vision for them, and the challenges they face moving them from vision to a finished and enduring product they can be proud of. We learned something from each one of those conversations, and we've taken what we learned and developed a revolutionary, sustainable polymer coating that helps products retain their original beauty, resisting the relentless onslaught of time and damage.
Meet some of our detail-oriented people.
Founder / Material Scientist / Sweater of Details
• M.S. in Material Science and Engineering Specializing in Polymer Solidification
• 25+ Years in Management - Industrial Textile Distribution
• Member of Industrial Textile Association International Since 1993
• Brought Green Textile Processes to the Outdoor Industry (Nuwa Textiles)
Fun Machine / Experienced Campfire Guitarist
• Has harnessed the power of fun to achieve business success for 40+ years
• 15 years experience as President of JanSport (VF Corp.)
• The company grew 20X during his tenure as President
• Founded FED (Fun Every Day) Consulting in 2002 to help more companies use the power of fun to become more successful
Product Development / Retrofitter of Classic Bikes
• Decades of experience in product development and project management
• Holds dozens of US and worldwide patents
• Currently managing new coating research and process development for PolyCore with a focus on environmentally friendly textiles
Director of Sales & Marketing / Adequate Golfer
• Graduate of UW-Milwaukee
• New father
• Keen interest of making the world a better place for his daughter
We stand ready to use everything we know to protect and preserve your vision.
Let's connect and discuss how PolyCore can help protect your designs, your brand, and your profitability.